Services
Expert advice
24x7 multilingual support
Dealing with Automotive Supply Chains must ensure both the cost-effective deployment as well as 24×7 multilingual support on mission-critical environments.
GIMM experts are a recognized reference in automotive processes:
JIT/JIS
Traceability
Warehouse Management System
Industrial Applications
EDI / Communications
Logistics Supply Chain Management
GIMM is the preferred solution for Tier-1 Automotive Part Makers and Logistic Suppliers and offers qualified support in 6 languages delivered by skilled consultants and technicians. More than 80% of the incidents are solved within the first contact.
T-Systems guarantees seamless integration with the customer ERP and offers different industrialized support levels in order to assure the delivery of the components to the customer assembly line.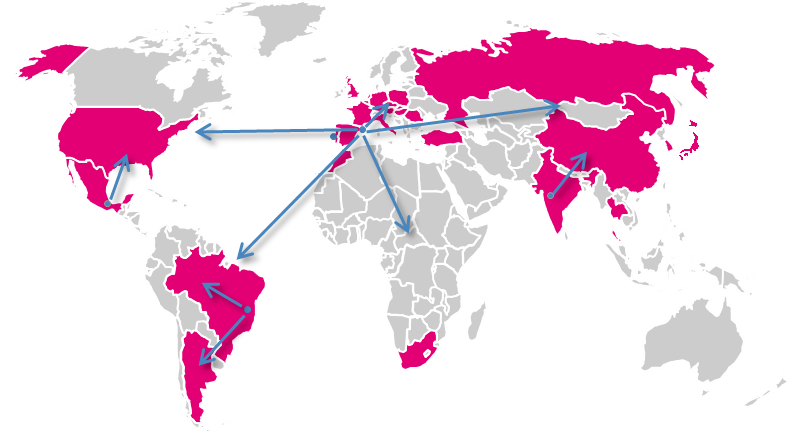 Our local delivery teams in the Americas, Europe, and Asia offer seamless support on a continuous base and Zero Distance to our customers' plants.
Expert advice
Consulting specialized in key supply chain processes. As an added-value offering, we carry out reengineering processes to apply market best practices and analyze the gaps between customer-defined processes and STANDARD MES products, with special attention to GIMM, in order to offer specific solutions, creating new models.
Support Services
Expert and multilingual assistance 24x7x365 specialized in mission-critical environments meeting the manufacturer's requirements. We apply ITIL methodology in all our incident resolution, service request, and maintenance processes. We complete our service with a scheduled monitoring system, in which we apply checklists and generate alerts. T-Systems offers different levels of support, including the "first level of support" that assists all operators who manage the system, or a "second level of support" where assistance is provided to the plant IT manager.
Process definition document
GIMM offers to its global customers the creation of a template so that the customer's corporate business logic is defined only once, enabling replication to other locations with the minimum necessary settings. The benefits in standardization and cost reduction are important and offer a return on investment of weeks.
Implementation of GIMM projects (turnkey)
GIMM solutions must be configured for 100% adaptation to customer-specific processes. Our team of expert consultants will perform this configuration or validate the configuration made by the client within the framework of a turnkey project.
Quality controls for customer self-implementations
Specific service for GIMM solutions that can be configured directly by the customer. We apply review and validation processes to ensure the correct implementation of the solution for the specific case that the customer has designed.