Stocs
LEAN MATERIALS MANAGEMENT
STOCS is a warehouse management system (WMS) designed to control stock of materials in industrial plants and logistics warehouses, with the ability to optimize the warehouse workflow and ensure the supply processes quality.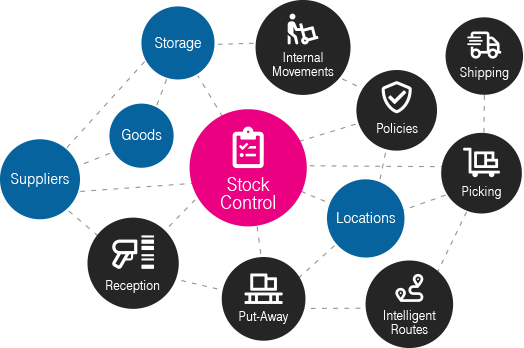 Manages warehouse inventory, space, material handling and transportation resources in real-time to assure timely, error-free fulfillment, delivery, and visibility of order status throughout the supply chain.
Reception
Manual material reception collecting logistic information (batches, expiration, serial numbers)
Automated material reception interfacing with providers(VDA, EDI, TXT, XML)
Management and verification of incoming transits from supplier's interfaces.
Storage
Storage patterns and profiles.
Warehouse capacity and volume management.
Material flow management between warehouse areas.
Packing Management

Packing profiles
Empty packages return

Availability and status management of stored material (available, locked, reserved, quality pending).
Warehouse replenishment forecasting algorithms.
Order Preparation
Order preparation activities control through optimized algorithms for

Reduce warehouse's transit distances.
Rearrange Picking orders based on configurable business rules.

Specific areas, routes and workflows for each work profile.
WebStocs application is included, a web solution providing a working interface for Picking, Put-Away operations, location changes and blocking of materials, from any mobile device.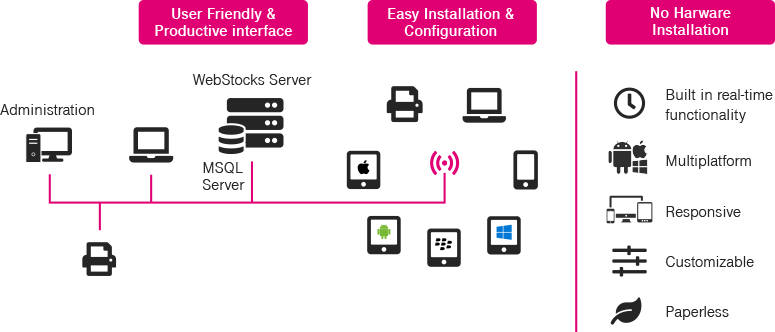 Shipping
Material expedition transportation management.
Volume and capacity transport control.
Route and fare management.
expedition's documentation generation.