Lincs
Delivery of the right material
Just in time
LINCS is a material supply control system for industries with Just In Time, Just In Sequence or Kanban production system.
Controls and ensures the correct synchronization between automotive industry manufacturers, components suppliers and logistics operators. LINCS generates containers according to production requests received from the assembly line and orders for the different collection, production preparation, order delivery and assurance operations.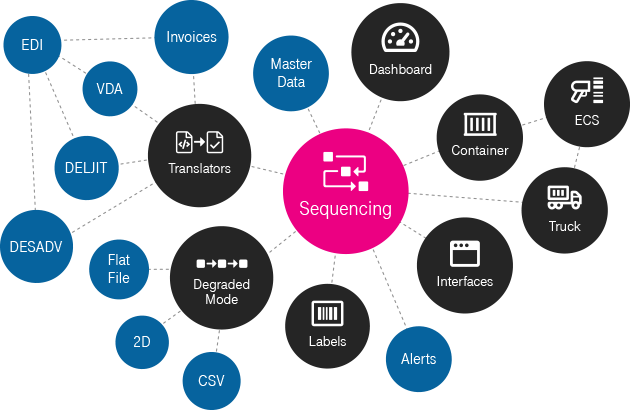 LINCS is a flexible and highly configurable solution easely adapted to each client and manufacturer process needs. It has already been successfully implemented in major car manufacturers. Please check our connected brands on our References page.
EDI Integration
Multiple information flows and requesting orders formats, based on each manufacturer communication and file-sharing protocols: Edifact Standard, VDA, XML, ODETTE, JSON.
OEM-specific file integrations implementation: flat files, EDIs out of norm.
JIS and/or Long Range sequencing.
Detect non received orders transmissions.
Degraded supply methods compliance, in case of communications failure between suppliers and car manufacturers.
Assignment and materials management in containers
Material's master data Manual or automated management.
Final material generation to be delivered for orders based on material components.
Requested materials assignment from OEM in their corresponding containers.
Container number and position assignment in each received production order container's.
Unusual situations management: non-assignable materials.
Truck management
Automated or manual management of truck's content to be delivered based on system generated containers.
Trucks generation flow control, based on assigned parts and containers states.
ASN / DESADV / AVIEXP files (Despatch Advice / Advanced Shipped Notice) Generation.
Control Systems (ECS / SCS)
Ensured part placement in containers and containers in trucks, based on identification readings.
Customer needs adapted Pokayoke systems: internal/external reference validation, stock, components.
Fully flexible control flow to be established.
Integration with external systems
Master data ERP Import.
Produced and shipped materials declaration to ERP: Backflush sequence, production and shipment - ODL-DEF-EXP.
Production declaration using HTTP REST protocols, file and database exchange.
Shipment to external production systems: pick2light, CRM.
Printing system
Labels and listings design and management, according to each client needs:

Sequence/order of production
Stock/Test
Container
Picklist
Delivery note (truck)
Process alerts: unknown reference, sequence / transmission jump

Reprint, pdf format preview.
User Interface
Web friendly user interface.
Handles sequencing data by any production user, depending on defined user profiles.
Standard design or custom screens definition for customers according to each project's specific needs.